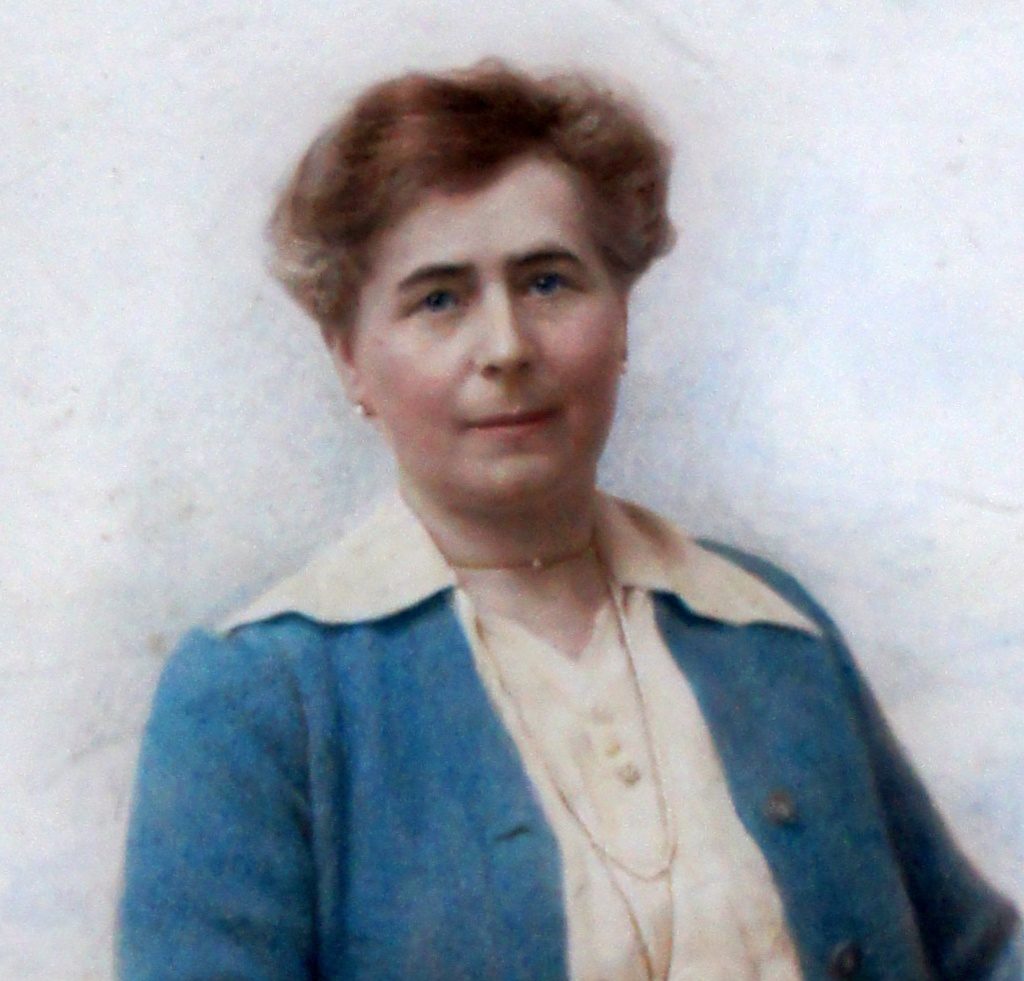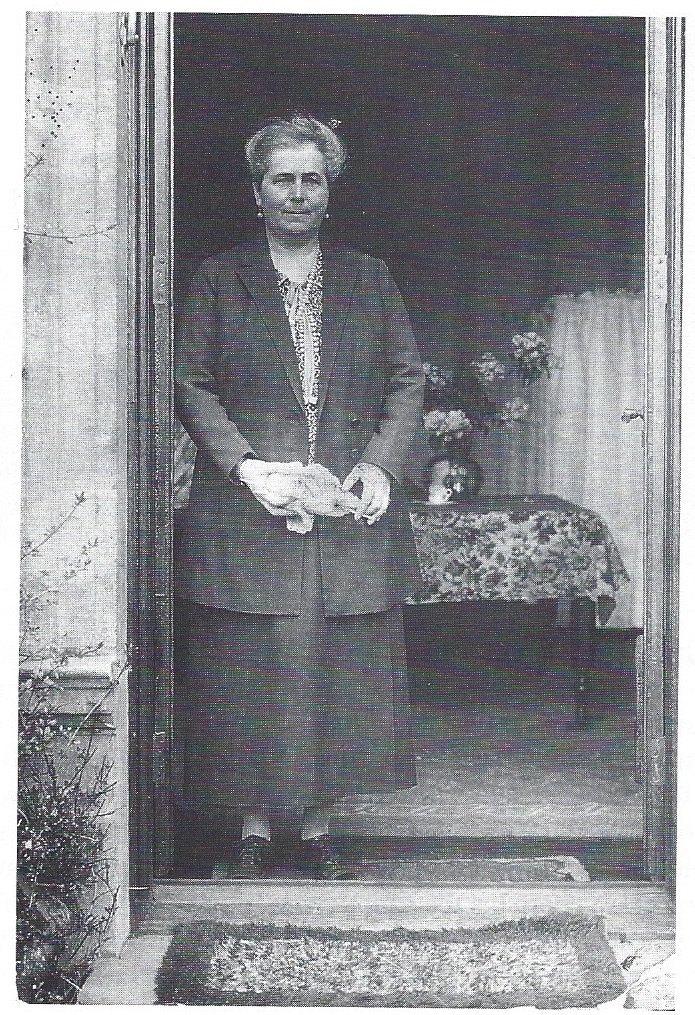 The start of the Modern Parish
The modern Catholic parish owes its existence to Miss Beatrice Davies-Cooke, member of an aristocratic family directly descended from the Plantagenet King Edward III, father of the Black Prince. Legend has it that she visited Bishop Amigo in 1912 saying that she was resolved to do something to spread the Faith in the rural areas in memory of her father, brother and sister, who had all died. Spotting a vacant area on a map showing the locations of parishes, she announced, "I shall try there", and left the bishop rather uncertain about what had just happened. He was no doubt not accustomed to visits from confident females aged a little over 40.
Her cherished wish, as an act of thanksgiving for her family's conversion, was to open a small Catholic church where none existed, dedicated to the memory of her late father, brother and sister. One assumes that she had ended up with the family fortune derived from the sale of estates covering many thousands of acres in Yorkshire and North Wales which her grandfather had inherited.
The Need for a Catholic Church 
Early in the 20th century most of Hartley was bought by Smallowners Ltd in 1911-13. They split up the fields into smaller units of 3 to 10 acres and most of their purchasers ran small scale pig or poultry farms, or planted orchards. They attempted to create a community of smallholders, building houses, arranging lectures on poultry keeping and running local shops, as well as one in London to market the produce. Smallowners also opened a jam factory to provide a market for surplus orchard fruit. On 12th July, 1912 Beatrice bought one smallholding that contained Middle Farm and its outbuildings, including the thatched barn, some 400 years old at that time, which could be adapted to serve as a church. She later acquired more plots along Stack Lane and elsewhere in the village and, to attract more Catholics to the area, built at least a dozen houses, not to mention a shop.
The Parish Priest of Northfleet Fr F. A. Hoare had realised that there were Catholics scattered in the outlying hills of his Parish and cut off by distance from their church. In 1910, he had told his people to pray to St Joseph that it might become possible to do something for them. They prayed steadily for two years, and learned of Beatrice's decision on Sunday, 16th March 1913, he told his congregation that their prayers had been answered, and announced that a service would be held at Hartley on the following Wednesday, 19th, the feast of St Joseph. The history of our church is that of the achievement of the impossible. Charabancs brought the Northfleet congregation to a tiny opening service finding the building still smelling of the mangel wurzels (cattle beet) that it had stored. On 9th, 16th and 23rd April, 1913 at 6.00 pm Fr Hoare followed this up with three instructions, dealing with the conversion of England to the Catholic Faith. On April 17th, the first Mass was said.
The history of Christianity in this region goes back even further. There are several Domesday Book churches nearby and at Lullingstone Roman Villa there are the remains of a chapel dating from around 350 AD, perhaps the oldest such remains to be seen in England. In the adjacent parish, there is St Edith's well, next to the Pilgrim's Way in Kemsing: she was born there in 961, dying in 984.
Adaptation
After this the earthen floor of the barn was levelled, lowered and concreted. The enormous door that had allowed entry of farm carts was sealed off and made into the arch of a Mary-Shrine. Twenty small windows were made all round to let in the daylight. The two remaining doors gave access to the building, one privately towards the house, the other publicly to the road. The sacristy communicated with a cottage, lived in at first by a gardener/sacristan.
The church served as an oratory within the Northfleet parish. From September 7th to Sunday September 14th, 1913, Dr. Arendzen preached a mission. On one night of that mission, there were 90 people present. The first regular Sunday Mass followed a week after the close of the mission. There was no resident priest and for a number of  years priests came from London to celebrate Sunday Mass. They included Mgr Ronald Knox, an early modern translator of the Bible, and the Jesuit writer Fr C C Martindale who published a pamphlet entitled 'The Romance of a Kentish Mission'. Fr Joseph Clayton came weekly by motor cycle from 1917 to 1926 from Cardinal Vaughan School.
Father Martindale tells the story of a poor woman, deprived of arms, who wrote letters by holding her pencil in her mouth and sang three songs to visitors who would reward her with a penny. The money  thus collected she gave to Hartley, and with it a prie dieu was bought. The charitable giver has gone to her reward – as Fr Martindale writes –  and the prie dieu can be seen in old photos of the shrine
The original farmhouse was dilapidated beyond repair and the house now known as Middle Farm was formed from two cottages to accommodate Beatrice and her mother, staff, livestock and pets, including Simon, the pet goat, whose headstone was uncovered during restoration work. This was her home for some twenty-five years. The out-houses were gradually incorporated in the main building and a cottage and garage built. Miss Davies-Cooke was perhaps the first person in Hartley to own a motor car and was reputed to be the first woman in England to get a license to drive a car. Her mother, Clara, lived with her at Middle Farm until her death in 1929.
Clara Davies-Cooke travelled in Europe and was impressed by a priest of the Salesian Order, who she met in Rome. He was Fr John Bosco, later canonised. This is the origin of the dedication to St Francis.
A shrine to Our Lady was created to house a statue bought from the shop of a Mr Sale in Kensington Church Street. The pose is popular in Flanders and it is a version of an ancient,  miraculous and more primitive Belgian carving, some say from Tongres, others elsewhere. Anglo-Irish Dominican nuns had been in exile at Tongres, which may account for the rose and shamrock design in the robes. Reports of miraculous favours soon also emerged from visitors to Hartley – 76 in 1924 alone.
Pope Benedict XV
Miss Davies-Cooke's many society friends included the Italian-born second wife of Lord Cadogan, recently retired Viceroy of Ireland, who mingled in diplomatic circles when visiting Rome. Lady Cadogan's accounts of developments at Hartley attracted the attention of Pope Benedict XV who sent a rosary to be placed on the statue and continued to ask for news. He was horrified by the scourge of the First World War and warmly appreciated the fact that Hartley had become a haven for dozens of refugees from Western Europe, who worshipped at the Oratory alongside refugees from the opposing country of Austro-Hungary, and were later joined by German prisoners. Two Belgian priests served at the church. For much of the war. (Fr T-L-P Moulaerts exiled from Diksmuide and Fr Florent Mortier member of the Congregation of the Immaculate Heart of Mary, of which he was Superior General from 1909 to 1920.)
His grant of the new Marian title of "Our Lady of Hartley" in 1921 was a testament to his satisfaction with the mission, To further enhance its development he attached indulgences on May 28th 1921: an indulgence of 300 days to all who would visit the church and pray for his intentions; an indulgence of 100 days to all who uttered the invocation "Our Lady of Hartley, pray for us"; and a plenary indulgence to be gained by visitors who pray for peace among the Christian Princes of Europe. This gives it the status of a Major Marian Shrine, alongside others that are far better known.
In effect, living in Middle Farm when not in a London apartment, Beatrice carried out most of the non-sacramental tasks of a parish priest – and went beyond them by attracting favours from Rome. It is only in quite recent years that we have realised that many records about early developments remain in Northfleet (the mother parish), rather than here in Hartley. Diocesan archives are not very helpful, either, as Bishop Brown, the first auxiliary in the diocese (appointed in 1924) separately left more relevant material. It is likely that Bishop Amigo delegated him much of the care for the fruits of Miss Davies-Cooke's rather private initiative and the unexpected interest that came to it from Rome, which probably did not fit in easily with the procedures and formalities of diocesan planning that he expected.
Apart from her mission at Hartley, Miss Davies-Cooke was a Member of the Council of the Crusade of Rescue (for orphans); honorary secretary to the Association of Perpetual Adoration and Work for Poor Churches and Foreign Missions (of which both Lady Cadogan and the Duchess of Norfolk were at various times President or Patron); member of the International Catholic Society for Befriending Girls.
Beatrice designed and sold a medallion for pilots to wear or fix in their planes, presumably instead of a St Christopher medal. She also produced a booklet of devotional reflections, an example of which can be found here.